Head of Selection, Development and Compensation

A career path in human resources: what do you like most about your job?
I ended up here somewhat by chance, after graduation, looking for opportunities like all young people, 23 years ago now. I was fascinated by what was written on the ad I had read: they were looking for a junior figure for "a job that allows you to learn about the company through the people who inhabit it". I did not know what the difference was between the various "HR roles", I only knew what I had picked up during some exams at university, but that is where my adventure in Human Resources began. I enjoyed the job right from the start. I wanted to acquire the right skills to do it and get to know those occupations I had only heard about. Years have passed, bringing changes and many new challenges, and today I am in a large Group. Over time, I have had the opportunity to put myself to the test and grow in different organisations and different roles: from Management to Selection via Training and Human Resources Development.
I have grown professionally while watching the growth of what is now Leonardo Global Solutions, and I feel part of an inclusive environment, always ready to take on new professional challenges, deploying high-level skills to respond promptly to whatever is required.
Being in HR is exciting, it is a very dynamic and ever-changing job. For me, the greatest satisfaction for those of us who work in this field is being able to combine the needs of the company with the expectations of the people who shape the company every day, through their work. Definitely a challenging goal, and not always achievable, but the biggest challenge is to never stop believing.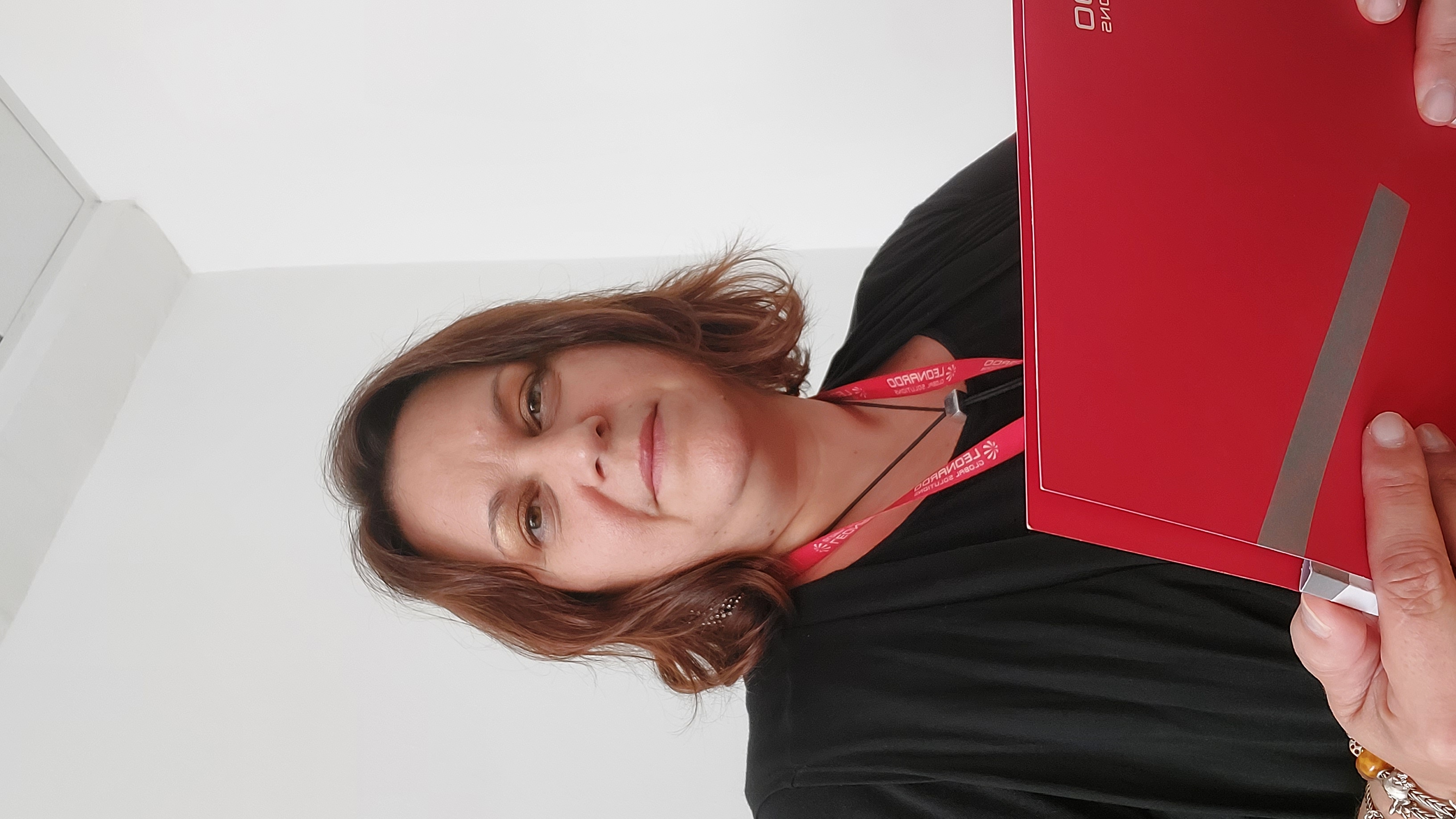 How would you describe the world of HR?
A fascinating world that has had to come to terms with new working practices and changes in recent years. A world that has had to rapidly reinvent itself and cannot allow itself to stand still in the light of new challenges in the labour market.
Managing people requires not only specific technical skills, but also the so-called "soft skills" that are indispensable for all HR professionals. Human Resources are, or should be, the constant in every employee's professional life: from the selection process, to managing the working relationship with the company, from training needs and growth paths, to career planning and performance evaluation, from handling critical issues to remuneration aspects and so on, right up to the employee's last day at work. HR people are both the good guys and the bad guys, loved and criticised, but always present, for better or for worse.
In conclusion, I don't think you can improvise HR, at least not in the long run. You can learn to do what is necessary for your role, but you have to believe in it to build a career in this field. Working in HR means working with people and for people, it requires a good dose of self-awareness and the belief that you can make a difference. In other words, the right mix of enthusiasm and skills, innovation and resilience, ethics and professionalism.
The pandemic experience has profoundly changed the world of work: what do people demand and expect, how has working culture changed?
Even for those who, like me, had the privilege of being able to continue working during the pandemic, the impact was still very intense. We had to learn to work differently, with new systems and unfamiliar dynamics, and we were not ready. But changes, however disorienting, always teach us something and there is always something positive in learning.
Today, undoubtedly, people's approach to work and their motivations for seeking a first job or changing jobs are different. The market is filled with more resourceful workers with excellent CVs and a strong desire to stand out. Smart working has arrived, habits have changed and probably what many considered a priority until recently, is no longer so.
One new challenge for companies is managing the speed at which everything happens. The attraction and retention policies that we now have to redesign quickly to keep in line with this change can no longer be based only on financial aspects. Today's employees are looking for a welcoming environment, clear and well-defined trajectories for training and growth, flexibility and a fair work-life balance. They feel they can choose between many opportunities, and the principle of a permanent contract as a key element is gradually losing its importance.
The propensity of people to change jobs more often is increasing, there is a growing focus on a company's values and the consistency of the company's choices with these values.
What is your advice to those working or wanting to work in human resources?
There are many different HR roles, and many cannot easily be compared in terms of competences, but there are certainly a few characteristics that I believe no HR person can do without.
Problem solving is key; many of the problems in the company will arrive sooner or later in one of the HR departments.
A piece of advice for those who want to work in human resources? You need to be able to communicate effectively with people, to be able to listen and sometimes to grasp what is not being said, to learn how to manage conflicts by trying to be proactive.
A strong capacity for adaptability is absolutely essential, you need to get used to a market that is changing at lightning speed, and you need to have an innovative approach and a penchant for continuous training.
For those already in HR, my advice is to act as facilitators of change. The traditional way of doing our job can now be accelerated by digital platforms or automated by new tools such as artificial intelligence. At first this can be perplexing, but we have to believe that technology is now one of the key levers for responding to people's current needs and improving their quality of working life.
Do you have a message to share?
The world of work is constantly changing: different people of different ages and orientations working together to pursue common goals. We should help to create a new working environment that draws on established methods, but that is oriented towards change and innovation.